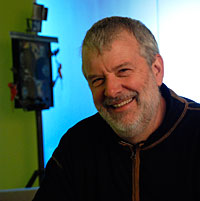 Mike Sneden has been directing commercial and long format pieces, both for corporations and non-profit organizations in St. Louis, for nearly thirty years. His craft has taken him to work in virtually all fifty states and a dozen foreign countries. He has garnered numerous local and national awards for his story telling abilities. His particular passion is working with both novice and professional talent to craft compelling stories. He is part of the creative team for Gateway: the City's Reason and will direct the pilot. Our interview with Mike follows.
How did you get involved with Gateway.TCR?
When Gene Pfeiffer floated the idea of an episodic series created by and about St. Louis fifty years hence, I was intrigued. When he elaborated about its central premise and ethic, a community that has somehow managed to evolve into a sustainable enterprise, I was hooked. I was particularly interested in the challenge of creating a dramatically compelling story arc that did not have to rely on the easy fallback of the dystopian future.
Where will the shoot happen?
St. Louis is a perfect pallet for any filmmaker: a place with a rich visual fingerprint that has never really been explored by any episodic series. The muddy rivers, historic bridges, iconic skyline, decaying 20th century manufacturing, agrarian surround and dozens of square miles of red-brick abodes have all been amazingly underutilized.
What needs to be considered when directing a series with a futuristic and sustainable setting?
The production trick to such a futuristic series, inevitably hamstrung by a limited special effect budget (probably won't have the proverbial flying cars) is first finding 'scapes' that either have a certain timeless quality to them or are by today's standards, really forward thinking architecture and environs. This necessarily dictates several production realities; a fairly controlled camera field of view, some in-camera photographic tricks and the judicious and occasional (but believable) CGI assistance.
What technology is available for the series?
Decades ago social soothsayers predicted the electronic revolution would bring a great decentralization; a democratization to myriad human endeavors. Flash-forward to the present and it's a reality. High-end sophisticated motion storytelling, aka movies, long the purview of a centralized system in a few select cities, can now be accomplished anywhere. With a few small esoteric exceptions, the production tools for filmmakers are everywhere, St. Louis, not being an exception. Availability of advanced production equipment is no longer an impediment.
The availability of production talent has followed the same arc. While St. Louis might not have hundreds of people doing 'A' level work like an LA or New York, it most decidedly has dozens. A particular craft position like Gaffer might not have a deep bullpen in a small media market like St. Louis, but there are several individuals that could easily play at the elite level in any market.
In the past, even if you could surmount these production obstacles you would still be constrained by distribution and obviously electronics has fundamentally changed that paradigm also. There is no longer the impenetrable gatekeeper of the big networks or monolithic cable conglomerates. Free and pay-for-play web platforms are proliferating, the outlets are numerous and exciting.
Who will the actors be?
It should not come as any surprise that St. Louis has been a huge source for national level talent; John Goodman, Kevin Kline, Linda Blair, Robert Guillaume, Jon Hamm, Shelley Winters, Betty Grable, just to name a few. And there are dozens and dozens of unheralded performers who are laboring undiscovered in the local theater scene. We plan on bringing as many as we can into our series.
What are your hopes and visions for the series?
There are a lot of natural qualms people will float for such an endeavor. Can a dramatic series that is not dystopian be at all interesting? Will the series have a unique point of view? Will the series degenerate into some progressive group hug and ignore the permanent human dysfunction; greed, jealously, lust and simply random fate (you know – the stuff people really want to watch)? Is there really the writing, producing and acting talent in such a 'backwater' town? Is there a sufficient critical mass of individuals who will put their financing where their mouths are? We're ready to silence the naysayers.
Mike Sneden is a partner at the Arbor Group, a director-based content production company located in St. Louis, Missouri.